Once we all arrived and got a little rest after the travel adventure (Do you want to build a snowman … in Istanbul?), it was back to our regular Holy Land Touring program.
On Tuesday, we woke up with the sun rising over the Dead Sea. We had breakfast (including chocolate pudding and cheesecake … seriously!), put our bags on the bus and headed north to Masada, Herod the Great's fortress on the shore of the Dead Sea. Not long after Jesus' death and resurrection, this mountaintop stronghold became the fortress used by a band of Zealots as part of the 66AD revolution against Roman oppression. These 900+ Jews (including women and children) held off the Roman army for almost 3 years (70-73AD) before finally losing to the Romans. But, rather than surrender and give over their women and children to the wishes of the Romans, they committed mass suicide so the Romans gained no satisfaction with their victory.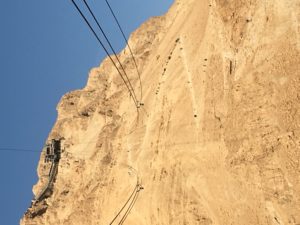 After we left Masada, we went north to Ein Gedi – A water oasis with caves where David would have hidden from Saul. What an incredible stopping point near the Dead Sea shores in the Negev Desert. After some photo opportunities at one of the waterfalls and hearing our tour guide, Malcolm reading some Psalms that were possibly written by David with Ein Gedi as the backdrop, we boarded our chariot and continued north along the western shores of the Dead Sea.
Next stop was Qumran. This was an Essenes settlement. And, less than a century ago, scrolls of the full Old Testament of the Bible found there … minus the Book of Esther. The big takeaway = The Word of God written by the Essenes in the 1st Century BC, is still the unchanging Word of God in 2017! We had lunch at the Qumran stop and some of our group got to try Shwarma for the first time! I'll let them tell you about it later…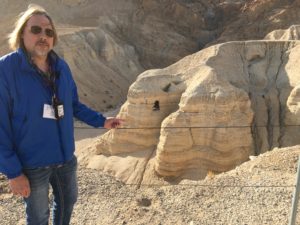 Our last tour stop for the day was at Jericho. Jericho is the city where Joshua let the Hebrew people to walk around the city 13 times in 7 days and the walls came down. This was the first city that the Hebrew people defeated as they came into the land promised by God through Moses.
Jericho is also that city that Jesus passed through on his final trip to Jerusalem. He met a short man there and invited him to come down out of a sycamore tree. Do you remember his name? Are you already singing the song?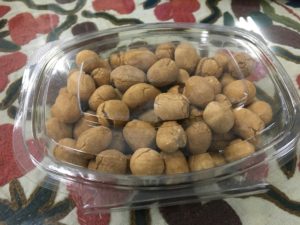 It is also believed that near Jericho is where Jesus went into the wilderness for 40 days after being baptized in the Jordan river by John the Baptist.
Spending the night in Tiberius on the shore of the Sea of Galilee. More soon…
Pastor Stan
Next Up: Night in Tiberius on the shores of the Sea of Galilee…