What a gorgeous day on the Sea of Galilee! Following is a picture from our balcony on the 12th floor. This is how we started the day…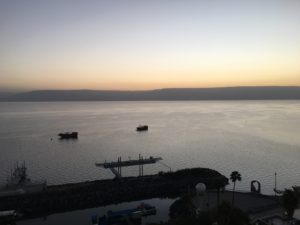 Our tour today started by going around the south end of the Sea of Galilee, then heading up the steep incline to the Golan Heights-one switchback after another. We were able to look 'over the fence' into Jordan. We heard about a farm in that area raising alligators and crocodiles. Then, we saw them-Jewish cows! Malcolm, our guide, told us they were holsteins, but Goldsteins … and this is the only place you can see this particular breed of cattle. 🙂 On the way up to the top, we heard stories about the Six Day War in 1967 as we viewed the remains of Syrian bunkers and old tanks on the side of the mountain. (Our guide, Malcolm, was there as a very young man, so we were hearing from first-hand experience.)
After ascending the Golan, we stopped by a kibbutz to take a look over the whole of the Sea of Galilee. Here, Malcolm took out his maps and gave us an overview of the entire region of Galilee. From on top of the Golan, we were able to see everything-to get the 'big picture' of the geographical area of Jesus' ministry.
As we went north across the area called the Golan Heights, we discovered that this area was responsible for Israel now being the #2 potato grower in the world (right behind Idaho). It was lush farm country, reminding those of us from the Midwest of Wisconsin, our home state. We saw the remains of bunkers, bunkers, and more bunkers-enemy bunkers still in place from the Six Day War. Along with these visuals, we heard the story of Ellie Cohen, the spy who brought Syria to its knees back in the day.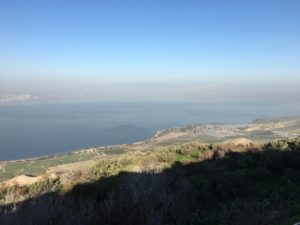 As we trekked across the Golan, we stopped in front of an Israeli early-warning base (top of a mountain) to look over into Syria. This, unfortunately, is the reality of living in a region of the world such as this one. Believe you me, when you see what we saw today-just how close Israel's enemies really are, you begin to see things in a whole new light. Very enlightening…
One of the most amazing sights today was when a very snow-covered Mount Hermon came into view. Just take a look at what we saw…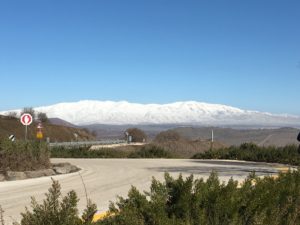 At the base of Mount Hermon are a couple other sites we visited today. First was Banias (Panias), where worship of the god Pan took place (amongst other religions). This location is signficant for a couple reasons. It's the headwaters of the Jordan River. It's also the place Jesus asked his disciples "Who do you say that I am" (Matthew 16)? It was a turning point in both the ministry of Jesus, as well as the discipleship of the 12, especially Peter. Also at the base, we visited the location of Old Testament Dan, along with an Abrahamic (4,000+ years old) gateway to another nearby community. Wow! We just have a hard time comprehending these sites, as we don't have any settlements this old where we come from.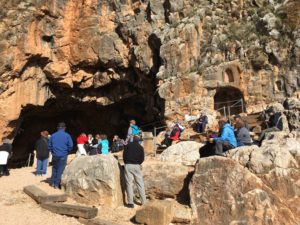 After these stops on our tour, we paused for lunch. Most of us ate the local Falafel, while others had pizza or went to McDonalds…
Now, when we're in Israel we're learning about the biblical land, but we're also learning about modern-day Israel too … and what God's doing in their midst. One of my favorite stops is Kibbutz Naot Mordecai-also in northern Israel. I don't know if you're familiar with Naot shoes or not (Morgan's Shoes, Madison, carries them if you're in Wisconsin), but we always make a stop at the kibbutz factory where Naot's are made. And … did I mention they have an outlet store? Let me tell you … a good time was had by all!
We ended our day at the archeological dig of the New Testament Town of Magdala. This was a large Jewish town in Jesus day (we're looking at the synagogue below) where a famous woman by the name of Mary of Magdala … or more familiar might be 'Mary Magdalene'-a friend and disciple of Jesus. More to come tomorrow…
Pastor Rom
P.S. We had one of our travelers stay back at the hotel today due to illness. Please pray for Rita Neuberg if you would. Thanks!